Tag Archives: Apatura iris

Twice Apatura iris, several Nymphalis io, and Argynnis paphia, Lycaena phleas frequently, Melanargia galathea frequently, in addition other Lycaenidae, Erebia ligea frequently, several Gonepteryx rhamn, several Nymphalis C-album, and finally the first Papillio machaon of this year. All when marching on the way around the valley.
Much reduced compared to the weeks before are Nymphalis urticae. Obviously a generation has passed.
In the forest I found where it has been the year before a Lilium martagon.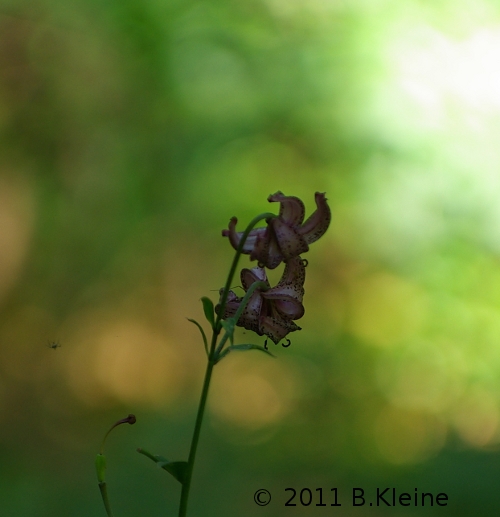 Today, apart from Red Admiral (Vanessa atalanta), Peacock butterfly (Nymphalis io) and Small Tortoiseshell (Nymphalis urticae) I took pictures of the Purple Emperor (Apatura iris; 1st photo alive) in the Urseetal.
Red Admiral – Apatura iris
This butterfly usually lives at the top of trees and is thus rarely seen. This one loved dog-shit. Species specific is the lack of an eyespot on the anterior wing upperside and the red colorization on the posterior wing underside as well as the spike in the white band there. Specifically protected by federal law, in Baden-Würrtemberg under observation (Part of the Red List of endangered species)